Create workflow template
Creating a workflow template involves defining one or more triggers and a series of steps that need to be performed.
The steps are organised in a hierarchical structure, with one or more initial steps at the top.
To create a new workflow template select Tools > Workflow Designer from the main menu and click the New button

.
Start by entering the template details.
Template Details
Click the Template Details tab.
Enter the name of the new template in Description.
Add details in Notes.
While you are working on the template, keep the template set at Suspended. This means it will not trigger tasks while it is still a work in progress. Once you are ready for it to go live, uncheck this setting.
Click Save.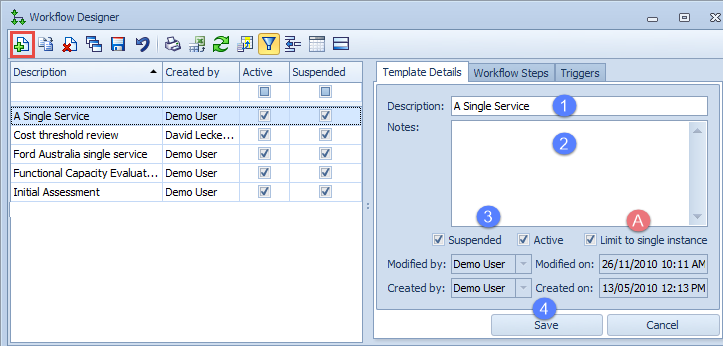 A single instance template can only create one workflow per case, even though multiple triggers are defined. This allows you to define multiple triggers, but only the first one that occurs will start the workflow. This is the recommended setting.

If you do not check this option a new workflow instance will be created every time one of the triggers occurs. You should use this with caution.
Continue creating template
Next you define the trigger(s) and create the steps.
Click here to view an overview of creating workflow templates.