Import document
You can import existing documents into Case Manager by dragging them in or using the new document function.
Drag document
You can import an existing document into a case by dragging it into the Documentation grid.
To do so, simply drag the document from outside Case Manager and drop it onto the grid. This creates a document in Case Manager and lists it in the grid.
The date of the newly-created document will automatically be set either to today's date or the original document's modification date, depending on the setting in the system Drag-Drop options.
When you drag the document in you will be offered the option to permanently relocate the file to Case Manager's document storage area or to make a copy.
You can choose whether to override the document's automatic date.
You can view and update the other document details.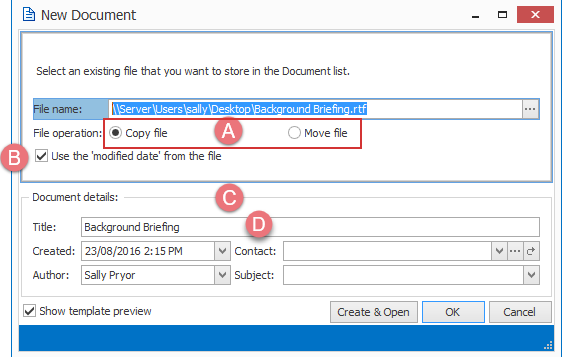 New document function
You can also import a document into Case Manager by clicking the New Document icon

and then selecting Existing file.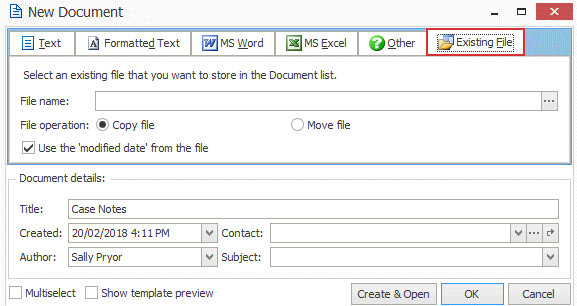 Security issues
Certain types of files pose a potential security risk and users should be prevented from bringing them in to your database.
Examples are executable files ending with the .exe extension, .dll dynamic link library file format files and .js JavaScript code. Case Manager has an Allow list (sometimes called a whitelist) of permissible file types and displays an error message when you try to upload a file type that is not on the list.

As the error informs you, contact your system administrator if you want to upload a file type that is not on the list.