Sign in with Microsoft account

You can now log in to Case Manager using your Microsoft Azure account. This convenient method provides single sign-on (SSO) and the additional security of multi-factor authentication (MFA).

What are SSO and MFA?
SSO is an authentication scheme that allows a user to sign in with a single login to a number of related, but independent programs.
With MFA the user has to provide more than one piece of evidence of their identity before being given access to the system.
Here the two pieces of evidence required are:
You must type in your User ID and password
You must provide confirmation via an authenticator app on your mobile phone
Setup
There are two components of the process:
Once the two have been done, users can log in directly to Case Manager with their Microsoft Azure credentials. They enter their username and password, and validate it via the authentication app on their phone. Users can opt to have the Microsoft identity platform remember this information so that they only need to enter it periodically.
Logging in with Microsoft online credentials
Once both your Case Manager system and your own MS credentials have been set up, click Sign in with Microsoft at the Case Manager login screen.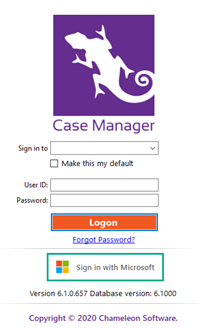 You will be asked to choose an account: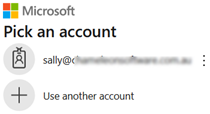 Enter its password: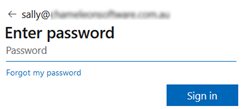 If you see the error message: Need admin approval: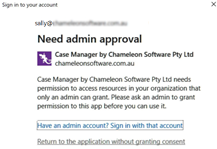 You need to contact your IT administrator. An extra setup action remains to be done. Details are at Granting consent.
A notification is sent to your mobile phone.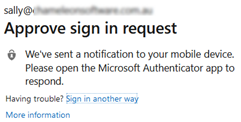 Once you have sent approval from the authentication app on your phone you have the option of requesting that the Microsoft identity platform 'remembers' your details. Click Yes or No as required.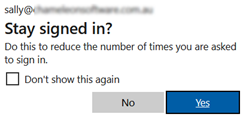 You are now logged in to Case Manager.
Everyday access via Microsoft online credentials
if you selected Stay signed in? in the step above you do not have to go through the authentication process every time.
Periodically you will be asked to re-enter your credentials and validate them from your mobile phone.
Signing out from Case Manager
As explained above, single sign-on (SSO) enables you to log in to a number of related, but independent programs with one login.
When you log out of Case Manager you can choose to also log out of the related programs (most notably Office 365). Alternatively you can just log out of Case Manager. See Signing out for more details.