Download document archive
In the web version of Case Manager you can export all documents and attachments as a zip archive. This simplifies the process of providing files in response to legal or other requests, such as subpoenas.
Note that
Only 200 files can be zipped at a time
Only one user per system (technically, per web server) can create an archive at a time.
Email attachments are not included in the first release of this feature.

Users should separately download any attachments that are part of the case documents.

The feature is designed for administrators. They need to have the new permission Can download documents as zip archive to see and access the feature.

Thus, to set up the feature the permission must first be switched on in the appropriate security groups.
Download documents
To initiate the download click the Download Archive button:
A new column appears at the left hand side, with a check box for each document.

By default, all documents in the grid have been selected, up to the first 200.

If you click the Deselect All button then all documents are deselected.

Clicking anywhere in a document's row will select it again.

If you have a large number of case documents you can use these tools to page through the list.
You can monitor the documents that have been selected for the archive.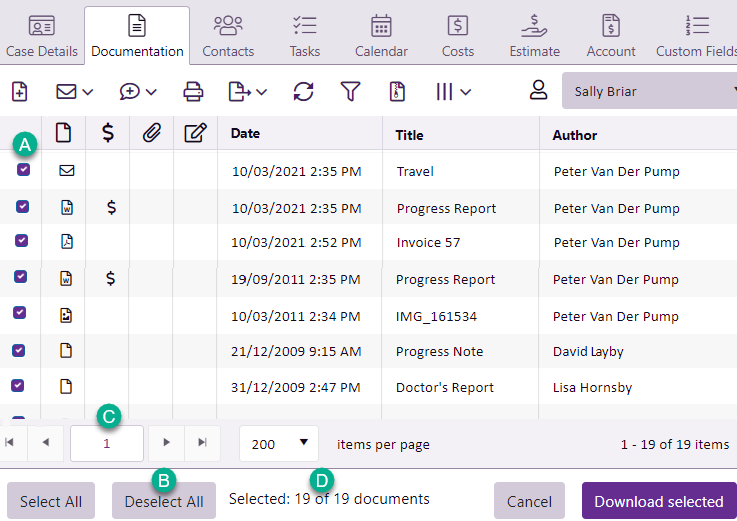 Filtering the list
If you only want to archive selected documents, click the Download Archive button.
All documents will be selected so click Deselect All. Filter the list, click Select All and note at D that you now have only the filtered documents selected.
Download archive
When you have selected all the documents you want downloaded click Download selected.
When the download has completed you can locate the zipped archive containing the selected documents in your browser's preferred Downloads location:

When you open the archive you can see:
Plain and formatted text documents have been collected into a PDF file named CaseNotes.
Emails are in a PDF file named Emails.

Any attachments are listed in the email PDF as a reference.

Text messages are in a PDF file named SMS.
Other documents, such as Word, PDF, image and other files exist separately.