Charge Code List
Activities are potential costs that can be added to cases.
What are charge codes?
Often costs need to be associated with a code in order to meet the requirements of various regulatory bodies.
Details of these codes differ from place to place and depend on the requirements of the institution, such as WorkCover and Comcare. These codes have different names, e.g. service codes, biller codes or payment codes.
In Case Manager these codes are called charge codes and are stored in the Charge Code List.

Relationships of charge codes and activities; applications of charge codes
Codes are created and stored in the Charge Code List and are usually linked to activities at the Activity List.
Once a charge code has been linked to the activity and a cost is created with this activity, the charge code automatically becomes part of the cost's details.
A number of different relationships are possible between charge codes and activities. Often one charge code can be linked to more than one activity and this is useful for estimates when they 'police' through charge codes.
See Relationships between activities and charge codes for details of these relationships, including and the applications of charge codes to estimates and invoices.

Access Charge Code List
To open the Charge Code List select Lists > Other Lists from the main menu and select Charge Code from the List Type dropdown list.
At the Charge Code List you can view existing charge codes, modify them and create new ones.
The default column layout displays all the details of the charge codes.
The list has standard grid functionality, see Overview of grids/lists for details.

An extra button (indicated) allows you to show/hide inactive charge options.

You can view all charge codes in the list or only those linked to a certain category.

To view only the charge codes linked to a particular category select it from the Category dropdown list.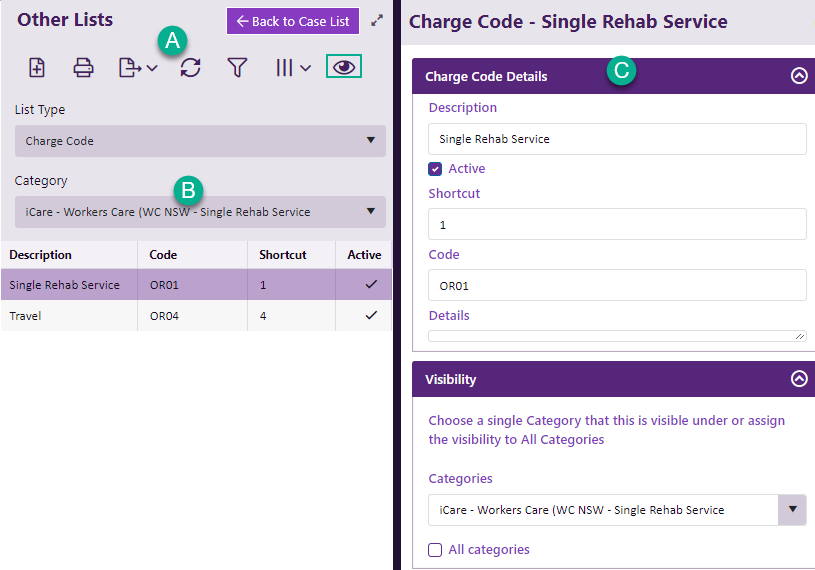 The details of the currently selected charge code are shown at the right, where they can be edited if required.

Add charge code
As in other grids, add a new record by clicking the

button.
Give the new charge code a name in Description.
Add a shortcut if desired.
Enter the actual Code.
You can enter extra information if desired.
Specify which categories the charge code is linked to.

If the charge code is limited to certain categories, un-check All categories and select the categories from the dropdown list.

Click Save.