System accounting settings
This section of the System options specifies the global, i.e. business-wide accounting options. To access the settings select Tools > Options from the main menu then click the Accounting tab.
The default cost rate applies to new activities that are not influenced by settings elsewhere.

For example, when you add a new activity at the Activity List and it's linked to all categories, this default rate is auto filled. However, for a new activity that is linked to one category only, its rate is auto filled by the default rate at the category's settings.

The default tax code can be set.
You can specify the next journal number.
You can prevent costs being entered at a case for any date within the From and End dates in an existing case invoice:

You set an invoice's date range when you create invoices at a case level and when you create them in bulk with the Invoice Generator.

You can prevent changes to transactions once they are journaled. We generally advise that this is set, see Changes to journaled transactions.
You should prevent users making changes to payments that have been imported from another system, such Xero.
You can prevent invoices being given draft status (which allows them to be modified) when they have linked transactions (payments, adjustments or refunds).
You can require the Bill To contact to have a company reference number.
You can prevent billable costs being entered after a case has closed.

When the setting is on you are also preventing cases being closed when there are any unbilled costs (i.e. costs that haven't been invoiced yet).
Transaction locking rules
You can select one of two rule options for locking accounting transactions. You specify which types of transactions the rule applies to.
Select a lock option:
No locking rule applies.

The lock applies a certain number of days after the transaction's creation date.

The lock applies up to the date entered here.

Thus, if the transaction's reference date is before this date, the transaction is locked. Additionally you cannot backdate a new transaction to a date before this date.

You can change this date periodically, as required.
Specify at least one type of transaction where the rule applies.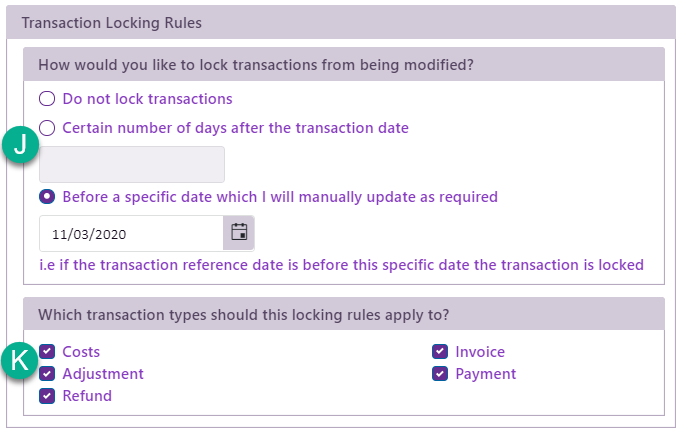 Further details are at Locking transactions.
Invoice defaults
You can specify the next invoice number, see Invoice numbers for details.
You can also specify the default settings for the invoice terms and note. These are overridden when there are category-specific and/or company-specific settings for the company and category linked to the invoice.

Estimates
When you have permitted costs to exceed the estimate total (see Estimates settings at B) and you check Show negative values in grid, the Estimates tab will show negative values for the estimate costs' durations and amounts left when they have been exceeded.

If this is not set, the durations and amounts left amounts will be displayed as zero in such situations.

Note that the estimate itself will always display a negative value for the amount left when it has been exceeded.

If the above option has been set and Include negative values in subtotals is also set, the total and subtotals in the estimate details will also show negative values rather than zero when they have been exceeded.
After making changes to any of these settings click Save & Close to save them and close the window. Alternatively select Save to just save and apply them.