The Case List
This page does not reflect the changes in the new web version yet.
You open Case Manager at the Case List, the 'heart' of system.

Case List features
The Case List is also called the case selector, because you select an individual case from the list of cases on the left hand side, somewhat like selecting the client's file from a filing cabinet.
The Case List is the starting point of almost everything that you do in Case Manager. You can access most system functions from here.
Whenever you select a case from the list on the left hand side, you can access the selected case's information on the right hand side.
The case information is divided by tabs into different kinds of information, such as documents, costs and account.
The Case List has many grid functions that make it easy to navigate, filter, sort and group its list of cases. You will learn about this in Understanding the Grid.
Case List criteria allow you to specify in detail the cases and case fields displayed in the Case List.
In the screenshot below:
The Case List displays columns for the case number, client, the employee that the case is assigned to and the amount owing. These columns have been specified in the Case List criteria.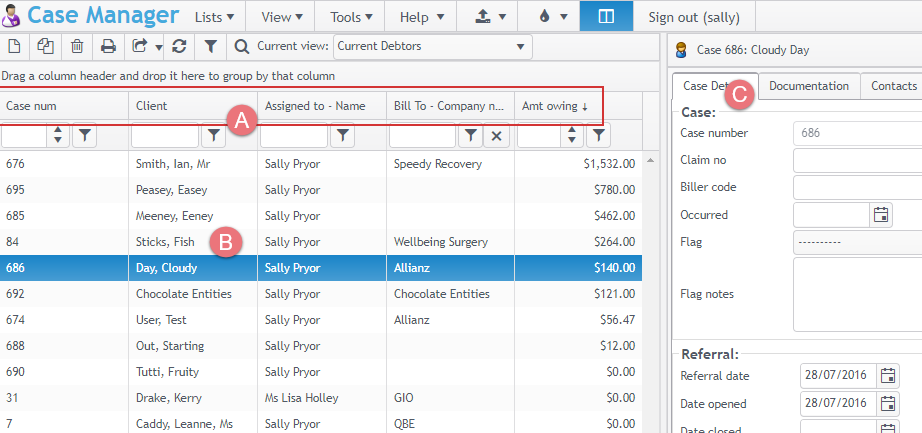 We can see that Cloudy Day's case is selected in the list and his case information is on the right hand side of the screen.
This case information is divided by tabs and the contents of the Case Details tab are displayed.
Note that out of all the cases in a Case Manager database, a user can only see a certain number of these. This depends on various settings at the case and user level.
Which of these possible cases the user actually sees in the Case List depends firstly on the filter settings at the Case List criteria, as we will see below.

Not seeing any cases in the Case List?
As a new user, you have no cases allocated to you yet. If the Case List is empty, a filter has been set to show only the cases that are assigned to you.
To change this:
Click the Case List Criteria icon .
This opens at the Filter tab. Click ... at the Employee dropdown list.
Click the None button to tell the filter to show all the cases in the demo database, not just the ones assigned to you.
Click the red X icon.
Click Save at the bottom of the Case List Criteria window.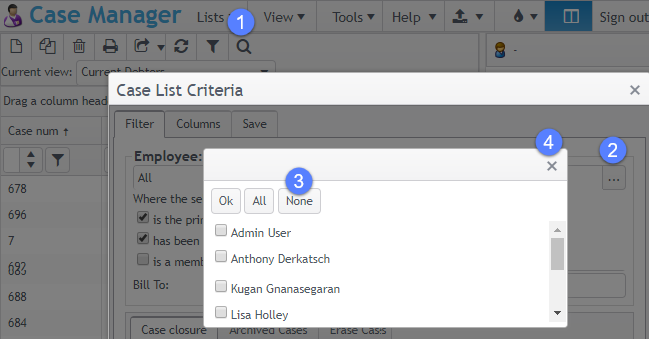 You should now be able to see lots of cases listed.
Now would be a good moment to explore the Case List in the demonstration database.
You will find much more detailed information about the Case List and the Case List Criteria in the rest of this site.
Next: Case information